Standing Room Only for Class Lunch on 10 May
Posted: 5/16/2023
"Standing Room Only" was the Word of the Day on May 10th at the Annapolis Yacht Club. The Class held its annual May luncheon in a meeting room that seated 26 people, and we had 26 Classmates who enjoyed the Deli Sandwich Buffet and the comradery among Classmates and friends.
Scott briefly spoke on the Class's new initiative of developing a Classwide support program of "Helping Our Classmates Help Themselves". You will hear more details on this program in the coming months.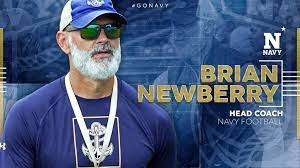 The Guest Speaker was the new 40th Head Coach for Navy football – Brian Newberry – who spoke for 30 minutes on his vision of developing a cohesive football team based upon a "team culture" that embodies the highest attributes of individual character, a "Team" concept and not a "me" concept, and "teammates" that truly love the game of football and have a love for the other members of the team!
Coach Newberry has 25 years of coaching experience, including the last four seasons as Navy's Defensive Coordinator. His words were right on target in that his desire to produce leaders and not just players rang true to the 66ers at the luncheon. His three objectives for Navy football this season are to win the Commander-in-Chief's trophy, Beat Army, and have a winning season to play in a Bowl game. Based upon his comments, Navy has a good shot at achieving all three of his objectives.
Classmates in attendance were Scott Redd, Tom and Betty Eubanks, Scott and Dervilla Gordon, Tom Marfiak, Kathy Percival, Phil Bozzelli, Jim Long, Roger and Kacky Carter, Don Jackson, Pete Hesser, John Posoli, John and Gail Sigler, Pete Wright, Bev Daly, Chuck Grutzius, Jim Maynard, John and Pat Scudi, Chuck and Karen Tebrich, and Ace Sarich.
Be sure to mark your calendars now for our next luncheon on Wednesday, August 9th, at the Army Navy Country Club in Arlington, Virginia. Hope to see you there!
«
'66 Ladies Zoom Group Celebrates Milestone
Army-Navy Game (Boston)
Recent Posts