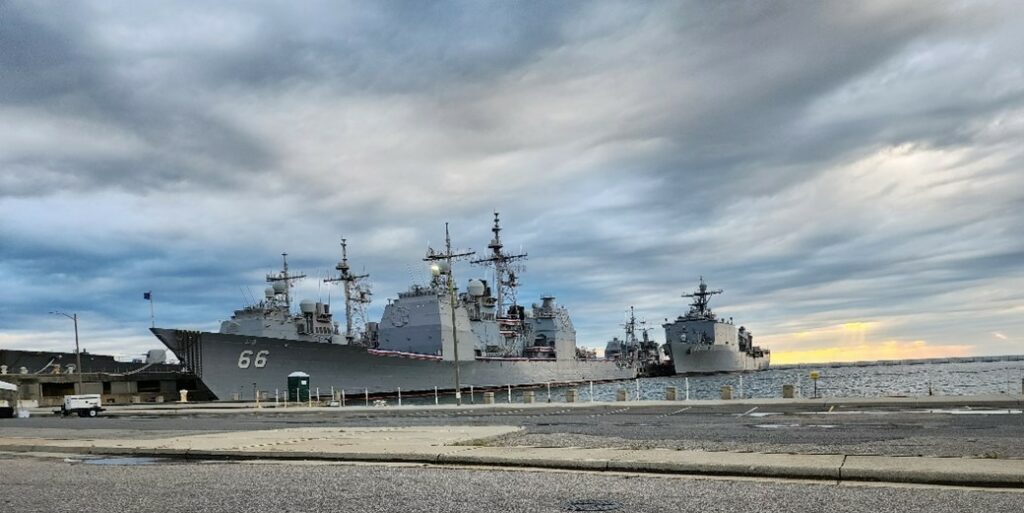 After 31 years of dedicated and honorable service, USS HUÉ CITY (CG 66) was decommissioned at a pier-side ceremony on Friday, 23 September 2022, in Norfolk, VA. 
The ship and her heritage were honored in a manner that was deeply respectful and – for the class of 1966 – highly emotional, for several reasons. 
First, and specific to us, she was one of only two ships in commission with a hull number matching our USNA class year, 66. Second, her commissioning Commanding Officer was a '66 classmate, CAPT Tom Eubanks, USN (Ret.). Providentially, Tom was the Guest Speaker for this final event, bookending the ship's life of service. Third, when Tom first took command in 1991, he reported to another classmate, then RADM Scott Redd, Commander Cruiser/Destroyer Group 12.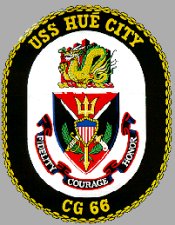 As a class, Vietnam was "our" war. USNA 66 lost more classmates killed in action (KIA) in that conflict than any other Naval Academy class. In fact, we lost more KIA overall than any other class since the class of 1945. Decades later we continue to remember them and honor their service and sacrifice. As a tangible manifestation of our respect, the Class of 1966 has honored one outstanding officer and one outstanding enlisted crewmember of Hué City with an annual Leadership Award every year since she was commissioned in 1991. Click HERE for more information on the Class Leadership Awards.
Somewhat unusually, Hué City was the only ship named for a battle in Viet Nam. As a result, she held a special place in the hearts and minds of the many Marines and sailors who fought in that bloody battle as well as in the war overall. Included in that number were several classmates including former class president GEN Carl Fulford, '66, and Chuck Tebrich (who was present at this final ceremony). Many of those present had also attended the original commissioning ceremony. In his remarks, Tom discussed the extensive efforts which brought hundreds of Hué City veterans to attend the original commissioning ceremony. Among those was the mother of Sergeant Alfredo Gonzalez, a Medal of Honor recipient in the battle, and namesake of another '66 ship, USS Gonzalez (DDG-66). Of special note, Hué is now included in the list of prominent battles on the Navy Stadium wall.
Tom also recounted the early challenges of serving as the pre-commissioning Commanding Officer. Those included not only ensuring that his new shipmates would serve the Navy well but also in establishing the sacred heritage of the ship. The latter was exemplified in creating the Ship's Crest, and its motto – Fidelity, Courage, Honor – attributes which played a significant role with the Marines in 1968 at The Battle of Hué.
Following Tom's remarks, CDR Thad Tasso, the final Commanding Officer, gave an impressive account of the ship's many contributions and accomplishments. Those included numerous forward deployments spanning three decades from the end of the Cold War through the New World Order and the Global War on Terror into the present day.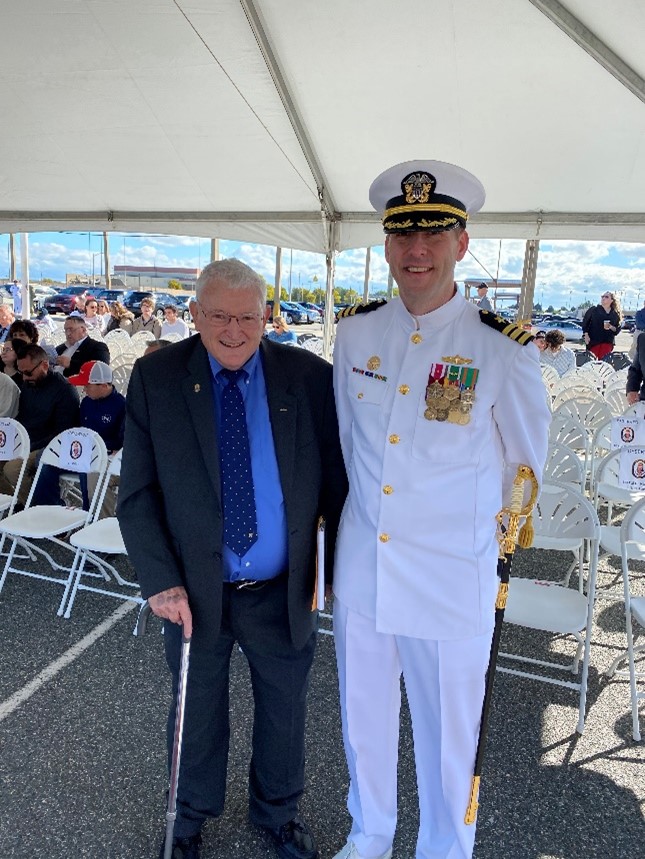 As a final note, the Admiral presiding over the decommissioning ceremony on behalf of the Naval Sea Systems Command was Rear Admiral Huan Nguyen, USN. Amazingly, he himself is a native of Hué, Vietnam who lost his family in the war, was severely wounded, and ultimately made his way to the United States. He was commissioned in 1981 and holds several graduate-level degrees in engineering and information technology. He is currently serving as the Deputy Commander, Cyber Engineering, Naval Sea Systems Command. Rear Admiral Nguyen made inspirational comments about the Battle of Hué and is a living tribute to the openness and inclusiveness of his adopted country.
The decommissioning was an enjoyable and celebratory occasion, but also a sad one. The Cruiser that had served her country well with a proud heritage was now retired from active duty.
This final ceremony was – appropriately – also attended by '66 classmates, including Scott and Donna Redd, John and Gail Sigler, Tom and Betty Eubanks, Chuck and Karen Tebrich, Chuck Grutzius, John Jackson, Charlie Pfeifer, and Charlie Votava.
Upon completion of the ceremony, and in accordance with Navy protocol, the ship's colors were hauled down a final time. USS HUÉ CITY had served her country honorably, faithfully and well for 31 years. During those three decades, The Class of 1966 played a significant role in ensuring that her proud heritage would live forever in the hearts and minds of every member of The Class of 1966.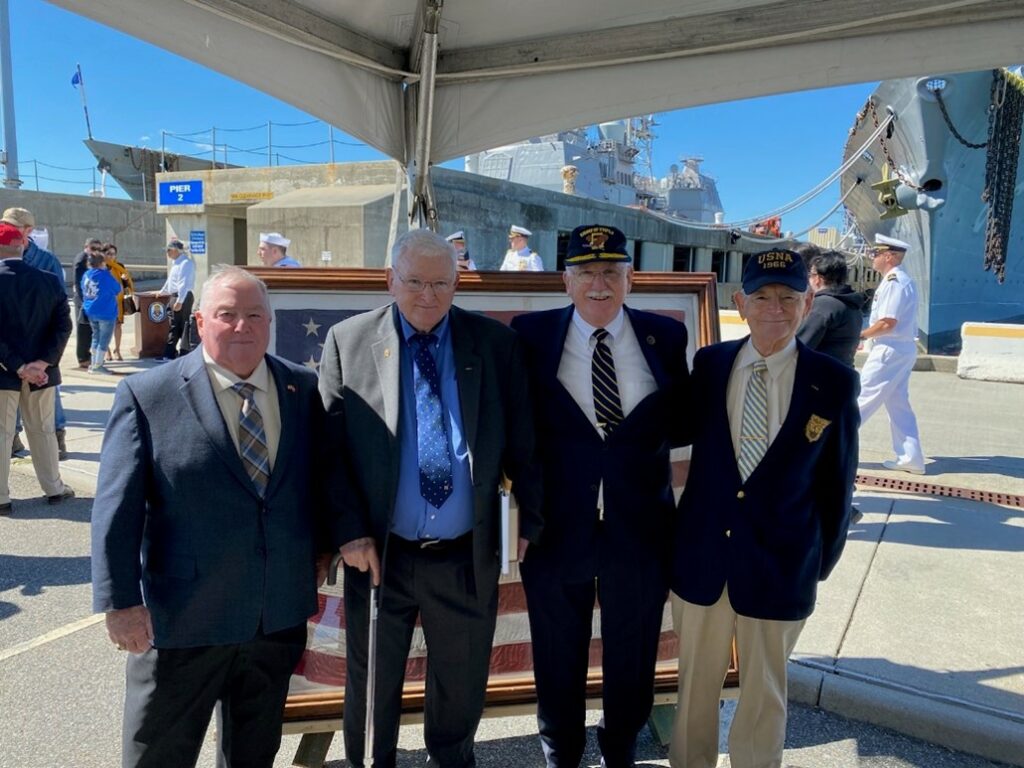 Army-Navy Game (Boston)
Recent Posts